Supporting a Child Who Wants To Become a Professional Football Player
Every parent wants the best for their child. However, it is not always clear which path to follow in order to achieve this goal.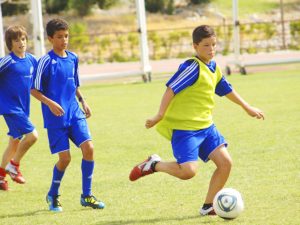 If your child expresses a desire to become a professional football player, you may be faced with a difficult dilemma. On one hand, you will want to support and encourage them in their quest to earn a living by playing the game they love. On the other hand, you may be mindful of pushing them too hard towards a goal that is by no means easy to achieve. If this situation sounds familiar – don't worry, you are not alone.
Find more about How To Be a Good SOCCER MOM - The Ultimate Guide
Making the right decision
In order to make the right decision for your child, you need to look beyond their basic desire to become a footballer. Many young people love playing sport and it is only natural that they want to follow in the footsteps of their sporting heroes. However, no matter how strong their desire, not every boy or girl will have what it takes to make it as a professional. This is the harsh reality of the sports industry.
Before you provide your child with unconditional support in the pursuit of a sporting career, you should ask a few basic questions
Does my child have the talent to become a soccer player?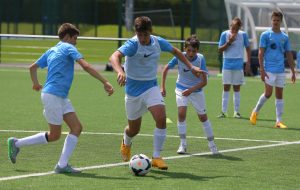 Young children will often display a flair for a particular sport at a young age. Even without any basic training, the best young players will be able to pass, dribble and kick the ball easily and accurately.
If your child has a natural flair for the game, their chances of forging a professional career will be much greater. By practising soccer with your child and keeping a close eye on their progress at school level, you will soon notice if they have some natural ability with the football. It may be a good idea to talk to their sports teachers and get feedback on their enthusiasm as well as their ability.
Is it just a phase?
Children often go through different phases of being interested in different sports and hobbies. If your child has shown an interest in playing football, you may want to consider just how serious they are. Is this just another in a long line of interests, or is it something that they seem truly dedicated to?
If your child is passionate about watching, playing and learning about football, they might just have the obsessive nature that is common amongst sport professionals.
Do they enjoy training?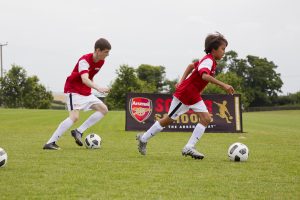 Playing football is fun and enjoyable and most kids enjoy having a kick around, even if their ability is limited. However, taking part in daily training sessions and studying new tactics and techniques takes a lot of hard work and dedication. The very best coaches treat the game almost like a science, and top players need to be attentive, responsive and willing to learn.
If you child is just as keen on training as they are on playing soccer, then you may just have a budding professional on your hands. It takes many hours of dedication, discipline and hard work just to make it to the lower levels of the professional game and young players should be made aware of this fact.
I think my child has got what it takes – what next?
For many parents, the next step is to get their child involved with a team, either at school or at a local club after school or at the weekend. Playing football at a competitive level can play an important role in the development of any young player. But parents of children who are intent of pursuing a career in the game, may need to invest in some professional coaching.
Can a soccer camp help?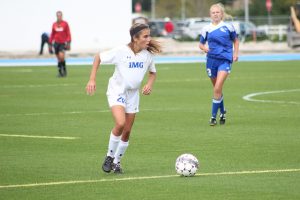 A summer soccer camp is a great way to further explore the potential of your child – especially the high performance soccer camps. While attending a soccer academy, your child will receive training from professional coaches and parents will receive constructive feedback about their child's abilities.
Even if your child decides not to take their interest in the game any further, they will benefit from a rich and rewarding experience that could help them to grow and develop as a person. They can begin to learn a new language and will get to mix with children from many different nationalities.
On the other hand, if your child excels during their stay at a soccer camp, you may want to send them again, either for another summer or to a full-term academy where they can also continue their academic studies.
Respect and fair play
One of the great things about a soccer camp is the culture of respect and fair play that is instilled into the children. These attributes can benefit all children – whatever path they choose to take in life.
Support and encouragement
The important thing is to make decisions together with your child, and then to give them your full support – whatever the outcome. No matter how dedicated and enthusiastic they are, there is no guarantee that they will go to make a living from the game, and full encouragement should be countered with realistic goals and expectations.
Source: https://www.ertheo.com
---