Home
Soccer Moms
30 Days Of Soccer Night Meals: Feeding Your Family When You Don't Have Time To Breathe
Have you seen the study that announced the undue pressure we're placing on moms with our society's focus on providing home-cooked meals? This news has given me pause, I worry I am contributing to that pressure because one of my missions here at Peanut Blossom is to inspire you to cook real food. It is healthier, it tastes better, and I actually think it is fun.
But I don't do it every night.
Sometimes I don't do it every week! I've written about my struggles with meal planning and my attempted fixes. Our meal planning solution worked fantastically all of last school year. I still believe it is a great program.
But now that my girls are getting older, this year has brought a new challenge to our family–sports nights. I'm getting just a tiny taste of what families are going through with after school activities for older kids. Between transportation to and from the activity, the practice itself, fitting in homework and baths and everything else, I can see how dinner on those nights is daunting. That drive-thru is just soooooo very easy to go to, isn't it?
And there's that pressure I mentioned. Your evening is packed. You're exhausted. Everyone is starving. Ok mom, now put a home-cooked meal on that table!
I asked my friends over on Facebook about it and it turns out a lot of you have the same struggle:
But wait a minute, how do we define "home-cooked"? Jenny from Dinner: A Love Story had
a brilliant response
to that study that was published in the New York Times. You can
read it but she reiterates the most important point–if you had a hand in preparing it, it is home-cooked.
A peanut butter & jelly sandwich? Home-cooked.
Cereal with a pour of milk and some orange wedges? Home cooked.
Grilled cheese & tomato soup heated up from your pantry? Home cooked.
I have fallen prey to my own high standards and failed. When faced with my pantry & refrigerator on soccer nights, I want to cry from not having the energy for whipping up a casserole. I feel guilt passing over a bowl of macaroni & cheese to my kids. Now I realize I shouldn't! And neither should you.
To help us both overcome that fear of peeking into our pantry I'm sharing today's "30 Days of Soccer Night Meals." 
And are some of these ideas obvious? Probably but they sure don't feel like it at 6:45 pm on soccer night. . .
Last-Minute Pantry Raiding:
Let's start with the easiest category. You haven't planned ahead, you're in a pinch, everyone is screaming for food. Try grabbing:
1. Scrambled eggs, toast with butter or jam, fresh fruit or applesauce or a few raw veggies like cherry tomatoes & carrots
2. Pasta with your favorite jarred sauce
3. Grilled cheese & tomato soup with fresh fruit
4. "Euro platter": think fancy as you serve up a mixed plate of whatever you've got in the fridge–cold cuts, cheeses, nuts, apple slices, crackers, veggie sticks
5. Macaroni & cheese served guilt-free with a side of carrot sticks and whatever fruit you have. Bonus points if you stir in some shredded rotisserie chicken. Mom of the Year Medal if you steam some broccoli from the freezer.
6. Suped up frozen pizza: Stock your freezer with plain cheese or margarita pizzas. Top them with your mixes based on the leftovers in your fridge.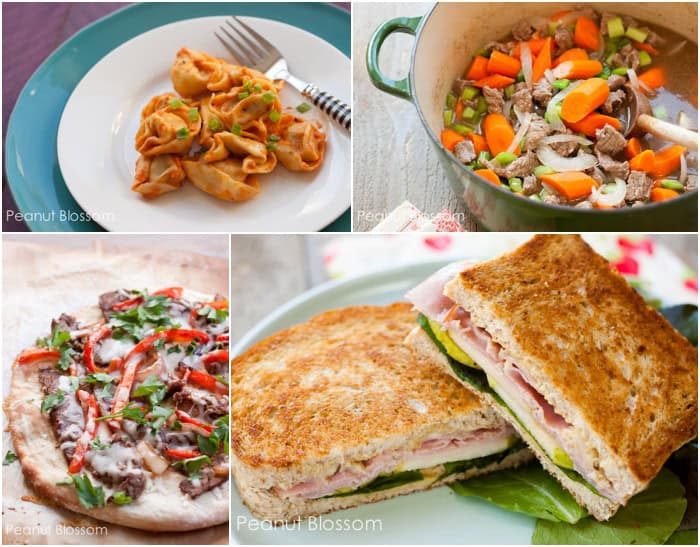 7. Grown-up PB&J: You can serve the classic to the kids, but I highly recommend these simple additions for making it special.
Mix and match to your heart's content:
super thin apple slices
bananas
honey
bacon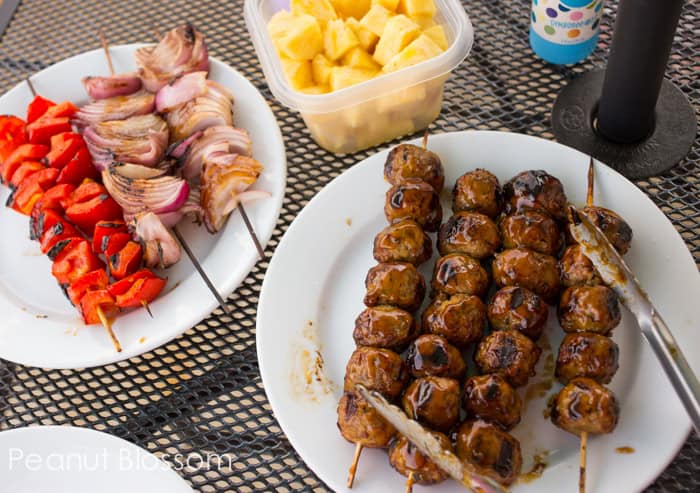 Mix & Matches:
These recipes are one notch up from the pantry raiders. You've planned ahead enough to stock your freezer with a few staples and you have a few fresh odds and ends laying around. Mix and match these for a rounded meal and we'll count this as 4 more suggestions towards our 30:
Protein:
Frozen breaded fish cutlets, we love the tilapia we buy in bulk at Costco
Flavored chicken sausages from the refrigerator case, we love most Aidell's varieties particularly the Chicken & Apple and Spicy Mango with Jalapeño
Shredded rotisserie chicken
Prepared meatballs, again we love Aidell's Caramelized Onion and the Pineapple Terriyaki flavors the best
Side Dishes:
Flavored rice packets, I know it isn't the healthiest choice but I have a crazy passion for Rice a Roni's Chicken Flavor rice.
Frozen potato wedges of choice, we love the all-natural Alexia brand of products
Pasta with butter or olive oil and a little garlic salt
Fresh baguette baked from the freezer. Costco carries the most amazing french bread baguettes by

 

Le Petit Francais. They take 6-8 minutes in the oven directly from frozen.
Veggies/Fruit–pick 2 of these if you can:
whatever fresh fruit is in season
canned pineapple, peaches, or pears
applesauce
bag of frozen steam vegetables. I buy the

 

SteamFresh packets

 

by Birds Eye whenever I can. Love their varieties but I generally stick to the unflavored ones and season them myself.
baby carrots
any raw veggie in the fridge: celery, bell peppers, cherry tomatoes, etc.
a simple green salad: call yourself gourmet and just serve up some lettuce with a light vinaigrette
Flavor boosters for dipping the protein or veggies:
honey mustard
ranch dressing
sour cream or greek yogurt with or without added seasonings
Sriracha sauce–the Peanut LOVES it on her tilapia!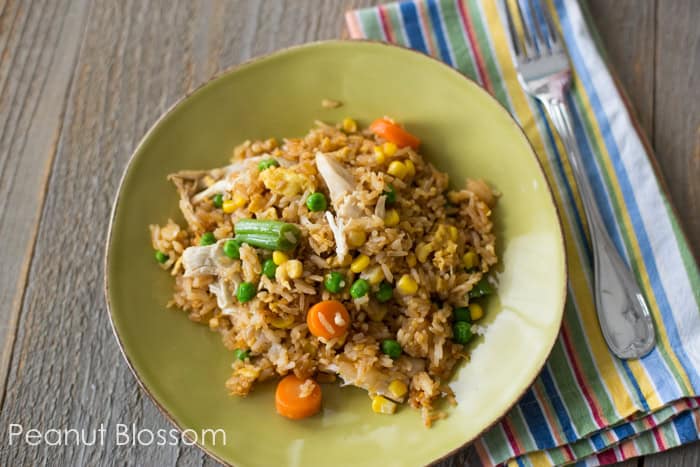 Classics:
When you've mentally prepped yourself for a crazy night, you have the ingredients on hand, and maybe you're lucky enough to do a little prep work earlier in the day or the night before. These meals are classic family staples for a reason.
12. Sloppy Joes: get the meat mix ready ahead of time and all you have to do is serve it up on buns with sides
13. Tacos: Same concept as the Sloppy Joes but with a Mexican twist
14. Quesadillas: Like the grilled cheese but more open to unique and hearty fillings. Add rotisserie chicken, pulled pork, or any mix of leftovers with your favorite veggies or even pineapple. Or not and just do cheese with some sour cream or salsa for dipping.
15. Fried Rice: Another great way to use up odds and ends of leftovers in a quick stir fry. If you've never made your own, I highly recommend trying it. So easy and so delicious. 
16. French Dip Sandwiches: If you have deli roast beef on hand, you can make this very simple sandwich. There's something so much more filling with a warm sandwich than a cold one at dinner time.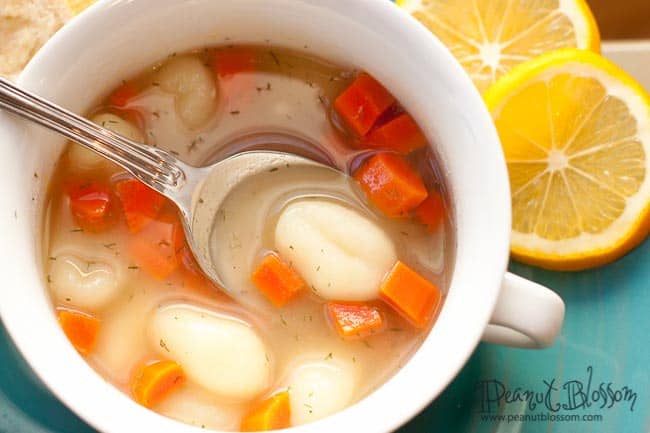 Soup and a Muffin:
Growing up, one of our family's favorite restaurants would serve a long list of soups paired with a long list of muffins. You mixed and matched your flavors when you ordered. I've always adored this idea for a meal. So mix and match your own soup/quickbread or muffin recipe. You can make both of them ahead of time so they're ready to go when you are home. Let's count this another 6 dinners towards our 30.
Soups:
Tuscan Chicken Soup
Gnocchi Soup with Lemon & Dill
Old fashioned chicken soup
Veggie corn chowder
Tomato soup
Perfect chili
Muffins & Breads:
Pumpkin bread
Pineapple carrot bread
Sweet potato onion bread
Banana zucchini bread (our family's favorite!)
Cornbread or cornbread chili toppers
Blueberry scones, the recipe is so easy it will be ready before the oven is preheating
Peaches and cream scones
Make Aheads/Stock Your Freezer:
These are the most complicated to prepare but possibly the easiest to get to the table of anything on this entire list. If you can plan ahead and have these stashed away into your freezer or fridge, all it takes is some simple reheating while everyone gets settled. This is the golden zone of meal prep but also can be the hardest to be consistent with which is why I saved them for last.
23. Chicken Tetrazzini

24. Asian chicken pasta salad

25. Chicken spaghetti

26. Chicken alfredo rice casserole

27. Chicken gyros: have everything prepped so all you have to do is broil the chicken which takes 10 minutes

28. Irish beef hand pies

29. Old fashioned beef stew

30. Chinese noodles with pork and spicy peanut sauce
Source: https://www.peanutblossom.com
PS. Whether you browse our site once a month or every day, we're always glad to have you. And we want you to enjoy Rewards. Just sign up, complete a few fun actions and you'll earn Coins. Coins add up to Rewards and Rewards convert into big discounts for you and your child! Click here to Join the Loyalty Club!